PHP Real Estate Script Ver 1.0
Our Php Real State Script is a perfect solution for powerful Real Estate Portal: property lease, rent and sale marketplace,Independent Realtors, Real Estate Agencies, Highly customizable, PG Real Estate Solution can be easily set to satisfy your demands.
Choose the look of your site from numerous design templates or we can create a customized look for you. NAR reports that 84% of home sales start with the Internet. Capture your leads with Eagle Real State Solution!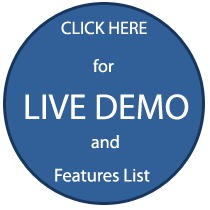 Listings syndication with major Real Estate Search Engines Your listings can be automatically submitted to major listing databases such as Trulia, Google Base, Zillow and more. More people will see your listings. More traffic will come into your site. It's automatic. It's free. Your clients will be happy to know their listing is seen by hundreds of people every day. This ensures that potential buyers can find and review your site properties and listings nationwide from your real estate website.
If you don't have your own database of listings yet, you can now populate search results of your website by listings from other resources. Currently such syndication is available with Vast.com and Oodle.com API programs
Features Of Fronthand
Easy Login Interface for Agents or Brokers
Professional Horizontal Menu Links for registration, Search Property, List Property, Alerts, Broker Search, Advertising.
Quick List of Important Cities for Property Search
Flash Animated Banner
Complete website
Impressive Header, with Loan or Mortgage Calculator.
Quick Property Search Based on Listing Type, Location, City Wise, Price Range etc.
Features Of Admin Panel
Manage users - Approve, update delete new user.
Add Listing Under Particular users.
Manage Listings
Approve New Listings, Check Updated Listings, Edit Listings
Manage Property Types, Listings & Locations
Edit Property Types
Add/Update/Edit Listing Types Like Sell, Buy, Rent and Lease Options
Add/Update/Edit Locations
Add Additional Features with Property Listings
Add/Update/Edit Appliances like ready to go Home things for some property listings
Add/Update/Edit Features Like Basement, Garage, Security Personnel
Manage Site Administrators & Their Privileges
Content Management Systems with WYSIWUG Editor.
Send Messages to all Agents, Brokers.